posted on Monday, March 30, 2009, 7:58 AM




stupid folio !

my back hurts la you dumb !

goshhhh ,

i wanna finish it today ,

and i'll be freee ,

but not to forget ,

next week i've an exam ,

it sucksss !

i've promise my mother i can get at least 7A ,

stupid me promise like that ,

i know i can't get but i'm trying lah weii ,

go for it nina !

HAHHAAH ,

-

i've been stalking sj-world.com for two months ,

i wanna post something there but i'm scared ,

you know how bad are my english is ,

i wanna answer every single question that they give ,

can ? ;p

-

1. Have you ever randomly spotted super junior on tv ?

i've watch shindong , eunhyuk and eeteuk on a show with park tae hwan ,

i've watch music bank with super junior h in it once !

i've watch star golden bell where eunhyuk and eeteuk as a guest !

that's all !

-

2. who in sj, at first you thought was an eldest and youngest ?

at first i thought siwon ! you know he's very the matured one in sj,

so i get totally heart attack when i hear eeteuk was the leader,

HAHAHHAH,

and the youngest , as usual ryeowook lah kan, his cute face makes him look youngest

than kyuhyun , i get shocked when kyuhyun is the youngest ,

HAHAHHAHAH

-

3. i know i am an E.L.F when ...

a. you hear about 13 then you're thinking about super junior

b. you changed my favourite colour drpd red to sapphire blue

c. you cry when the hurt

d.you cry when they win awards

e. you dream about marrying donghae

f. you dream about eunhae is totally real

g. you saves their pics in laptop and handphone

h. you download all their songs and listen to it everyday , x pernh miss

i. you're thinking about them every single minutes and even now

j. you're talking about them everyday at school and people getting annoyed XD

k. you paste your suju photos in your scrapbook and you think teacher will getting angry but

who cares ?

l. 13 reminds you everything that related to suju

m. you accidentally wanna say sorry tp lidh tergeliat ckp shawty

n. you can remember all their names

o. you can remember all their birthdays but you can't remember your closest friends birthday

p. you see a fish you think abot donghae, you see a simba then you think about siwon, you see cinderella then you think about heechul, you see snow white then you think about kibum, you see pumpkin then you think about sungmin and the list go on .

q. you get mad when people is talking bad about them even you best friend for life ,

r. for you, super junior is the most special creature on earth !

and the list go on an on,

ps: the list that i'm writing is the most about how am i know that i'm an elf

-

and suju wins 2 mutizen award in 2 weeks ,

feewitttttttttt ,

that's my husband deserve because the're working very hard !

I LOVE SUPER JUNIOR =))

posted on Monday, March 23, 2009, 9:27 AM


omggggggggggggggggggggggggggggggggggggg !
21st march the best day ever 2009 !
i swearrrrr ,

so just a little bit shoutout before i'm ready to school ,

to my dearest couzin ,
weii ,
thanks sbb cares for me ,
thanks sbb wish me good night ,
you're really the first person on earth said to me like that ,
thanks sbb give me all your credit XD
thanks sbb everynight messaging me ,
HAHAH ,
thanks for everything !
weii ,
malu ah lelaki merajuk do ,
relax lahh ,
wei fiqah !
aku call dye semlm ,
this is our conversation ,

him ; hello ?
me : hello ?
him : ha nape ?
me : wei relax ah ! x pyh merajuk , haishhh ,
him : eh x de la, x tido lagy ke ?
me : belumm ,
him ? asl ? aircond x de ?
me : yupp , aircond kene msk semut , geli gyle !

then my sister interupt us ,
and she said ,

my sister : wei korng, esk2 lah pun kalau nk bergayut , tido ahhh , mengantuk neyy
me : senyapp la!

then we continue lagy ,

him : weh pegy tido ah , esk lmbt plak bngn ,
me : x nk ! aq x bley tido laaaa !
him : dah tu psngla kipas !
me : mane bley , aq kalau tido kene psng kipas ngan aircond .
him : ngade2 plak kaw neh ,
me : weh weh , x pe la, citer korea aq dh nk start , bye bye la !
him : okok , bye, selmt mlm , assalamualaikum ,
me: okok .

HAHAHHAHA ,
i dont know that he has become THIS murh ht XD
aq syg kaw gyle gyle ah wey !
dh mengaku sedare ,

'ps: i'll reply comment after i came back

posted on Wednesday, March 18, 2009, 11:37 PM




HELLO EARTHLINGS !

for me it's the second best one week holiday !

my first best one week holiday was fly to korea 2 years ago ,

ok if we back 2 years go ,

probably i'm youtube-ing ,

i use to hear beyonce's irreplaceable at there ,

i dont know why i love that song ,

i'll be thinking of korea ,

i'll not blogging for 4 days ,

and i hope people dont miss me ,

posted on Friday, March 13, 2009, 11:42 PM




HELLO HUMAN BEING ,

satu

, hari ni , aku jeles ngan izreen, *zulkifli aku punyer* bkn bpk kaw, bkl bpk orng laen XDD

dua

, hari ni mv suju kuar , korng x excited ? aku x kesh, ckp je la ape ape pun, aku still excited !

tiga

, hari ni cikgu bg bnyk hw, aku x nk buat, penalti dh berbakul, aper aku kesh,

empat

, hari ni hr jadi eyra ! YAALLAH ! tuhan saje yg tau betaper jelesnye aku kat dye!

lima

, hari ni kawad kadet polis best la jugk, x de mamat gatal tuh, hidup kadet2 ceria je, dtg mmt tuh, terus x seceria dulu, membabi kan?

enam

, tady aku tengok boys over flowers ep 19, you know something? i feel like kicking jun pyo's mother , she'e the one that cause all the problems, ahhh, she relly should die faster la! ahh and i feel like want to kick yi jung's ass too! aishhh , how come he really become this mean to ga eul? oh mannn, calm down ! and go ga eul ! if it was me, i'll kick his leg and smack his head, duhhhhh =.=

tujuh , hari ni couzi call aku, dye kater petsys paksu aku ramai gyle kat rmh nenek aku, and yg paling menggediknye , dorng kater kiterorng berdua bertuah gile dpt jadi ank buah paksu aku, euwwwww, sumpah aku nk termunth dngr, aku yg suffer gile jadi ank buah dye, korng plak kecoh2 nk jadi ank buah dye, eh kau tau x paksu aku tuh gtl gyle! aihhhh, tak de taste dowh nk tackle paksu aku, =.=

lapan

, esok aku nk off to kelantan, balik kenduri kawen abg sedare aku, alahhh, tak suker lah belik kelantan, orng kat sane suker sngt la mengutuk , wei! x de keje laen ke? aishhh , tau la jeles! jngn smpi mengutuk dowhh, =.=

-

sembilan,

i'll not update for this one week, i'll only reply comment on next week's wednesday and thursday, sape2 yg rindu aku tuh rajin2 la call XDDD

-

sepuluh, aku ngantuk lah wehh, nk tidur! bye bye bye ,

ps: nanty kalau ade pape aku edit post nih XDD

sorry sorry super junior,

Labels: korea here i come XDD

posted on Tuesday, March 10, 2009, 8:43 AM




Labels: saddd

posted on Monday, March 9, 2009, 10:28 AM




you all better wake up now or i'll kick your ass off !

-

SUPER JUNIOR - SORRY SORRY

it's was damn sexyyy ,

love it !

but i dont know why ,

i prefer dont don more ,

HAHAHHA ,

i'm insane .
-

i'll try to reply comment ASAP ,

demam lah wehhh ,

aihhhh
Labels: suju rocks my ass off
peeps
posted on Sunday, March 8, 2009, 11:25 PM
-
super junior 3rd album gonna release sooner,
are you excited?
HAHAHHAHA ,
i'm damnblardyfreaking EXCITED !
know something ,
i've memorized the teaser lyrics ,
it's take 2 minutes only for me to memorize it ,
-
and today lee chong wei lost ,
but it's ok it's alright ,
he have to face lin dan AGAIN at terbuka switzerland ,
i hope he do the very best !
-
xiu myn !
why all super junior ?
HAHAHAHAHAH ,
easyyy ,
why all super junior ?
because i'm DAMNBLARDYFREAKING love them !
wors can't describe how much i love them !
HAHAHHAHHAHAHHA
-
for chermaine , shobana , wei ling , jil ee , siew woon and people that waiting this picture to release XD
HAHHAHAHAHHAHA,
sorry for the lower quality picture,
mianheyo (sorry)
this the best picture of him right siew woon?
hahahah ,
Labels: yebedabedu
posted on Wednesday, March 4, 2009, 10:27 PM
PICTURE TEASER IS OUT PEOPLE !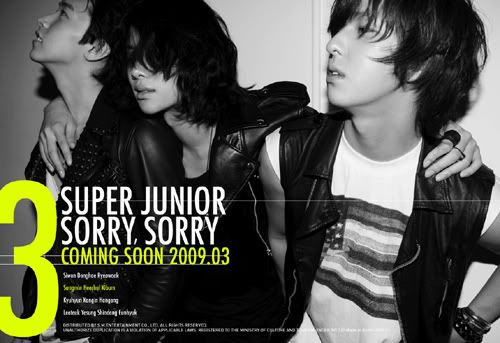 left to right : sungmin , heechul , KIM KIBUM!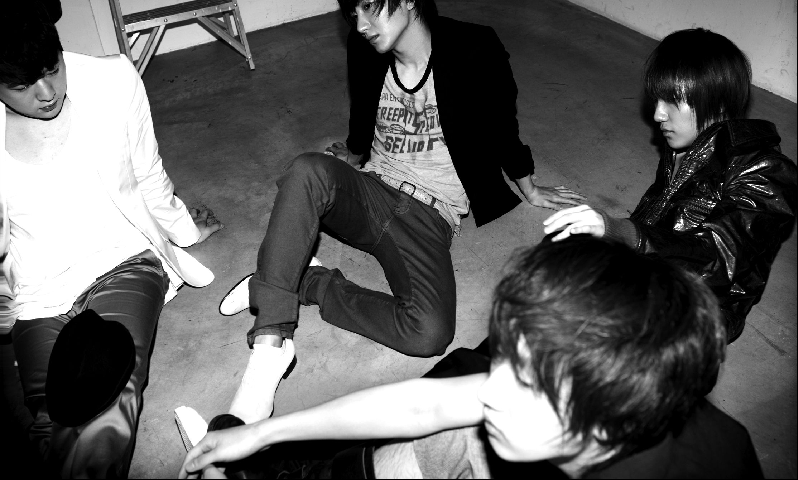 left to right : shindong , yesung, eeteuk, eunhyuk
left to right : kyuhyun , hankyung, kangin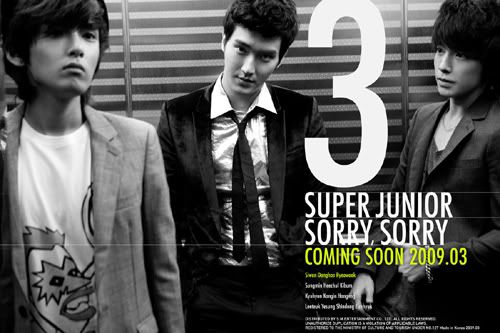 left to right : ryeowook , siwon , donghae
there's 8 days to go for their comebackk !
Labels: handsomeness
posted on Tuesday, March 3, 2009, 12:39 PM
TEASER FOR SUPER JUNIOR 3RD ALBUM GOING TO RELEASE 4th MARCH !
You all dont know how happy i am when i'm looking at this statement ,
but sad at the same time ,
the sad is ,
tomorrow i must go for mssd ,
i want to watch the teaser in the morning but i can't ,
arghhhhhhhh ,
damn ittttt ,
how i wish today is 4th march ,
i want to watch the teaser ,
i can't watch this night because my mother will sent my laptop to its clinic ,
arghhhhhhhh ,
how i wish my mother can sent this computer tomorrow ,
my mood is so downn ,
how i wish too my laptop can be settled by today ,
but i know it's impossible ,
i want to watch the teaser so badly ,
it's tomorrow i know ,
it's about 12 more hours to go ,
and i can get to watch the teaser another 42 hours to go ,
it's a very long time although i know it's not more than 2 days ,
i'm becoming an emo girl ,
i'm sorry ,
i've to blurted it out ,
i'm so sad that i'm the last one can watch the teaser ,
i want to be the first ,
but I CAN'T!
arghhhhh ,
THEEND
Labels: happysad
posted on Monday, March 2, 2009, 9:43 PM
SUPER JUNIOR WILL RELEASE THEIR 3RD ALBUM ON THIS 12TH MARCH

omggggggggggggggggggggggggggggggggggggg !
tipu lah kan kalau aq ckp aq x excited ,
you know something ,
i'm super excited
smph x bley tido mlm hr ni ,
i will die because of happinesss !
i scroll around at koreaprecious's blog and i found this ,
' SUPER JUNIOR MAKES KOREAN PROUD '
nina pun proud jadi fans dye !
i'm proud of you super junior !
pegy lat blog ni and check sendiri ,
THANKS FOR EXISTING !
Labels: happiness