2010

posted on Friday, December 31, 2010, 2:53 PM


Yo people :)




2010 , you gotta agree there's so much happens in 2010 . january to december . even the last day of 2010 itself brings a bad news to me . but i'm glad that i still stay strong after whatever happens . really




1) I'm glad that i know them



each of them means so much to me . i don't care what anyone going to say , ze:a is an underrated group , or infinite is just another group that tried so hard to copy your favourite group or whatnot whatnot . i seriously don't care . starts from junyoung to dongjun , from sunggyu to sungjong , i just don't know how to thank them more for making my year even more complete . they are now a part of my life , other than SJ . it's hard for me at first to like other groups than SJ . it's freaking hard . i tried my best not to fall for these two groups but i failed . and that's sad . but now , i can accept the fact that i am actually falling for those two groups . i love these boys so much , you can't even imagine how big my love was . i go cray cray over both of the groups everyday . i tried my best to catch up on their schedules like what i did to sj . know what they did all day long . i love you boys so don't you ever change . i love you just the way you are . really .
2) Teukchul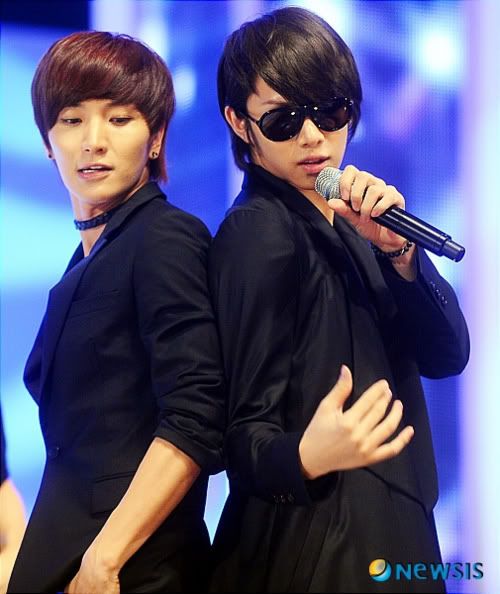 I'm actually glad that bonamana has this 83lines thingy . i will miss them once they're gone next year . i hate reminding myself about their army enlistment but i can't help myself to ignore the fact that i'm separating with them for two years . two years , 24 months . you think i can survive ? hell no . although i will try my best , it's still gonna be painful . i have never separated with them in these 2 years i'm with them . i still see the cheerful leader and evil heechul everyday . getting used with their updates . now i wonder how does it feel to not see teukchul in one day , no update from them in one day , missing them everyday . i wonder if i can bare with it . it's gonna be hard , but i will try . I'm actually proud of them , ei don't you feel proud to ? your idols are actually trained to protect their own country . that's so manly ide . true men did that . i'm proud of teukchul . yes . and teuk-ah , why are you worried you might lose fans ? just see how much fans you got out there , from all over the world , small kids to teenagers , we will all be here for you even after 10 , 20 and 30 years old . really . it's just only 2 years and it will in just a blink of eye ! no need to worry that much because yes , like what we promise , we will be together until forever . i don't believe in forever but when it comes to you and SJ , forever do exist . in a sapphire blue world when there's only ELF and SJ , forever and yongwonhi do exist . believe me :)
3) Infinite's Woohyun
baby , since you're a part of my life , i am affected by what sungyeol tweeted , about your back injury . it affects me so much . i can't even smile . i was all sad and tried my best pretending to smile . i liked your teaser , very much . it shows how manly you were but that's not cool woohyun . that's not cool when you actually injured yourself while filming . i don't like the fact that you tried so hard for us . for your fans until you don't even care about yourself . and you made the staffs cried too while filming . jkjk . rest well woohyun . i could wait for ever for your comeback , it doesn't matter to me . what matter to me was your health , i don't want you to get sick anymore . you performed at mbc gayo daejun , i still can see the pain in your eyes . just how much you tried to hide them , i still can see them . i literally cried when you performed , painkillers injection is not the solution . you need a hell lot of rest hyunnie . don't overworked yourself . be healthy kid . :)
AND WHAT . HAPPY BIRTHDAY SUNGMIN !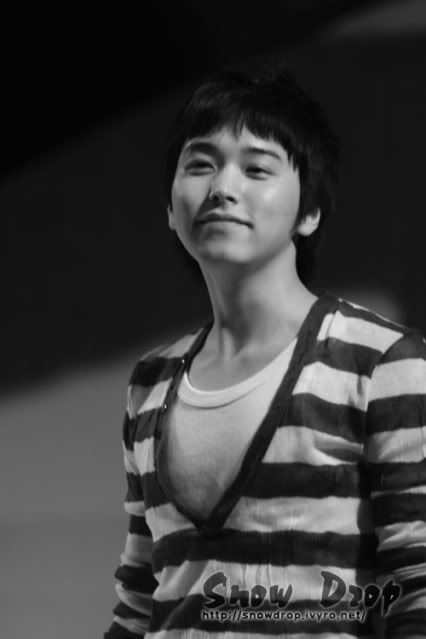 sungmin-ah , i hope you will be strong forever to face whatever may happens in the future . you are a true man despite of your cute image . really . be happy mingggiiie .




whatever might happen later , i wish everyone of you HAPPY NEW YEAR 8D . 2011 will be such a good year you know :) have a great day everyone ~ this has been nina who always talks crap throughout her 2011 year and thanks for reading . very much appreciated !

golden disk award . hi .

posted on Friday, December 10, 2010, 12:11 AM


Dear SJ ,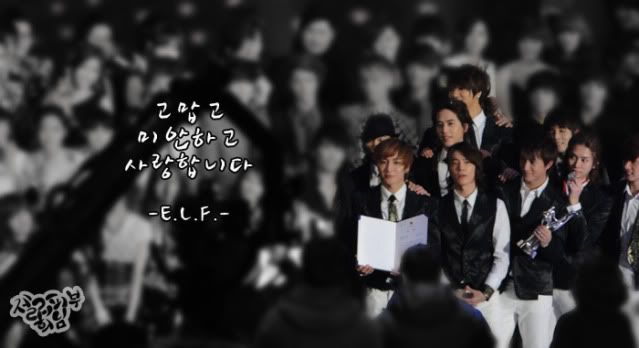 I don't think it's the right thing to say sorry to us . I'm the one who should say sorry , we're the one who should apologize . Lee Hyukjae , thanks for asking us why are we crying . It hurts so much to see you cried , and here we are , crying too . although it's just ' why are you crying ' , i know you care so much about us . I just , I'm sorry to let you down :( you're the first one who tweet us , sometimes i wonder how the hell you know how i feel right now . sometimes i wonder are you with me ? why you know about me so much ? hyuk , thanks . idiot , you better let your tears go by tweeting or i will kick your ass for having so much of secrets . you better don't . Lee Sungmin , where are you right now ? as far as i know , iphone can't access minihompy or cyworld , you must be hiding somewhere and cry don't you ? but my lee sungmin never show me his tears . that's just how great you were . you were so strong inside but yet too squishy outside . you're always be the one who calms me down , say it's okay , try to cheer me up . you were just too lovely lee sungmin . we're sorry to disappoint you again . you said it's okay , i will still feel guilty . I just wish i was strong , like you , to accept everything that happens , but i never will be . be strong as always lee sungmin , so that you can be the power of me who never let me down and cry . and idiot , just cry if you want , a man is not weak when he cried . okay . heechul , heechul-ah =( you were so disappointed don't you ? you tried so hard to hide your sadness but it still , i still can see tears in your eyes . man , you're cool . you're just cool to console your hyung , tell him that it's okay , better luck next time . i'm sorry . i am really sorry . Thanks for standing beside leader whenever he's sad . at least he know that he has a friend that is the same age as him to say things like that . I trust you kim heechul . thanks .
hi park jungsoo . I have lots , yeah lots of things to say . first , I'm sorry that I let you down , although you say that we're the best , i still think that i'm not . second , teukie-ah , uljimaa . it breaks my heart to see you cried on heenim's shoulder . third , you should have known about this , whatever gonna happen , whatever they say , whatever they think , i will , we will always be there beside you standing up high and down low with you . fourth , leader-shi , i don't know just how much you wanted GDA , how the hell much you said you wanted to be congratulated too by the end if this year , and it saddens me so much when you tried your best to smile . park jungsoo , you failure , never hold your tears anymore , you hear me ? NEVER HOLD YOUR TEARS ANYMORE . just cry if you want , just shout if you want , just do whatever you want . because park jungsoo , for all the hardwork you did , for all the sacrifices you have done , you deserve every happiness in the world . be happy , jungsoo-ah . sleep well too . my idiot .
kim yesung , why you tweet our picture and make me cry . we did our best don't we ? thanks :)
Lee Donghae , like what i said , when you tweeted , i feel like the bomb has just dropped . i cried even harder , i sobbed even harder . why you have to do this . you feel very loved ? how ? we don't even give you gda , you must be lying hae . i'm sorry , no gda for you . are you sad ? don't be =( . you still lack in many things ? you really think you're lacking so much ? seriously hae , tell me how much you worked your ass off for this , tell me how many times you're sick because of us , tell me how much you made me feel very loved , tell me how . tell me why you said you're lacking , infact you don't . lee donghae , you're my perfection . i hate it when you questioning my loyalty towards you . ' but will you still believe in us ? ' really ? hae . i just proved it to all of you , i'm here with you for two years already . and it's not easy . i have come this far , why would I lost my loyal when you didn't get an award ? why would i hate you when you didn't even win that award ? is love really depends on an award ? know this hae , i will always be here . ALWAYS BE HERE . don't question it no more . i hate it . i love you too and a toast for you who always did your best in anything . i will work harder too in 2011 so that i could see only smiles in your and your members' eyes . TEARS NO MORE .
ELF , you have to be strong . lets be strong with our boys . only we know what's the real situation , why this and that happens . how the judge cheats here and there . we can do it . prove them that they are wrong , prove to them that we're the best . don't do silly things , that means you have given up . never lose hope , remember ? we are ELF . ever lasting hope . ever lasting love . ever lasting friends . forever . hwaiting . :)
Labels: gda