Up to the date
posted on Sunday, February 28, 2010, 3:42 PM



Adik , I need youuuuuuuuuuuuuuuuuuuuuuuuuuuuuuu :(






There's many things happens nowadays huh ?

1) SM RESIGNING .
I don't know what to say . Does that old man thinks by resigning himself from being a ceo would solve all the problems ? damn him . Why are you so stupid ? This make everything going worse ! and stupid old man , wherever you are or whatever you did now , I still going to take my revenge on you . for make my boys ( husbands ) suffer to death . make sure you're still alive okay ? wait me at your doorstep . :)

2) Lee Hyukjae :(
Now what ? Lee hyukjae ? BABI FLU ?! I swear , if I can , I want to kill all the pigs. THEY BORN TO SUFFER MY HUSBANDS . wth ? grrr . and you lee hyukjae , stay at home , don't do anything , let your hyungs do it for you AND SLEEP ! take all medicine , don't missed them . I miss you and I'm so worried about you . You can see me crying all night and my eyes will go all fluffy and all that because of you :( Be back faster .

3) 2PM Jaebum .
I don't have anything to say as I'm not that kind of update with all those news . Jaebeom-ah , I don't understand anything . what are you trying to do ? We all have do a lot of things to you and why can't you see that we love you ? We want you back , we want park jaebum back . Why can't you see ? We've waited long enough . Please come back to us .


Ookay , happy upcoming 1st march :) This is going to be hard as I can't join them at the concert . I've joined the hot fm contest and people , come to think of it , I'm just a not-yet-15 teenager and I don't think I can win . Well I want to win . but its going to be hard . It really depends on my luck . I hope something will really happen on the 20th march so that I can forget about the concert . so lets see , hmmm , on that day , I've tuition on the evening and i hope it s going to be until night but yeah , I know it will not . sigh . I'm going to times square . yeay me . and i think , I'll shop the hell out of me and I'm going to be happy the rest of week if I did that . I will not bother if Suju comes to Malaysia if I get those things that I want . I need happiness on that day . I hope 20th march will went fast . I really wish it to ! Sigh . my pathetic life. SIGH .

Now , haha , EVERYONE KNOW SUJU . That's a good news , but for me it is bad . I mean , I can't stand people to just love sorry sorry . mann it is HORRIBLE ! I don't want gedik girls to know suju , I don't want an indie lover to love suju . you know why ? if suju changed their concept being a cute guy and if suju had an earing on the left or right side , THEY'LL CALL THEM GAY ! double u tee eff la people . A cute guy , doesn't mean that he is a gay . A guy who has earings , doesn't mean that he is a gay . okay lets see, my father has once wearing a fake earings and what ? HE STILL HAVE DESIRE TOWARDS WOMAN ! see ? wakey wakey la people . Try to look at a person with a nice thought . can or not ? sigh .


Park Jungsoo , Kim Heechul , Tan HanGeng , Kim Jongwoon , Park Youngwoon , Shin Donghee , Lee Sungmin , Lee Hyukjae , Lee Donghae , Choi Siwon , Kim Ryeowook , Kim Kibum and Cho Kyuhyun . I need all 13 members in my daily life to cheer me up . I miss the 13 of you . How have you been ? Fine ? I will keep on praying that one day , all 13 members will united back . Promise me to stay forever with me until my last breath okay ? if you do so and I swear I will keep my promise . Stay beside me :)

Labels: tired

...........

posted on Sunday, February 21, 2010, 8:52 AM






Hello ,


I've nothing to say because I'm not in a good mood , I was writing this and someone interrupt me by saying ' you've to stop a 9.30 ' . I was supposed to stop at 10.10 . I should wake up more earlier next time . I've so many things to tell , so many pictures to post , but what can I do ? in another 30 minutes , I'll be off . Its not fun . My life is just PLAIN boring . Don't you think so ? I've studied as hard as I can . Give me a break . I eat more , whats wrong with that ? Its explain that I was so busy with school's work until I didn't eat much . I gain weight . Isn't it a good thing ? Oh you want me to starve ? then how can I study in an empty condition of my stomach ? I want a calculator sleeve , to protect my calculator , why are you so stingy to even buy me one ? Its not that you've to go out somewhere to buy it . I can buy it online myself . Nevermind , I'm not broke yet , I can buy it myself . Its better to protect my calculator before it damage . You've to understand me , sometime ? Its obviously you did not understand me . Understand what I want . Sometimes you should give and take . I'm still a teenage girl and you're a woman . Why can't you treat me as your sister instead of a daughter ? I'm so dissapointed with your behaviour . Yeah , younger sisters and younger brother always do the right thing . I'm at the fault . Its all my fault . I'm sorry . I say sorry for so many times even when its not my fault . I'm so stressed. I love you , sincerely , with all my heart . but we keep have misunderstandings . and sometimes , sisters and brother should respect me . Man , I'm the eldest sister . The first daughter . but you treat me as your friend , as your slave . Good then . See what I'm going to do after PMR . I can't get mad , so what am I ? An immortal ? A rock ? Geez. I'm so dissapointed with my family's behaviour , seriously.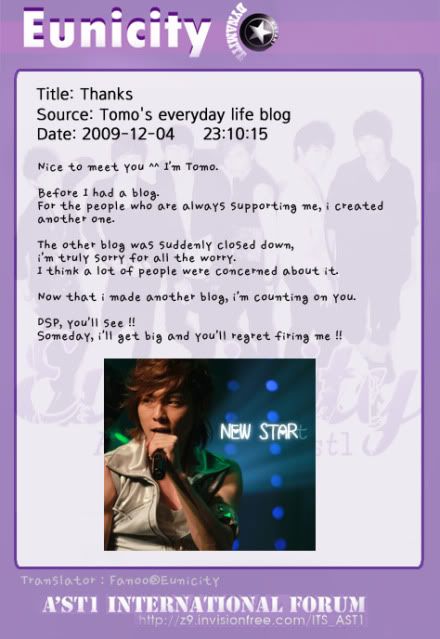 you be the judge . I've nothing to say other than hating DSP as much as I can . DSP , Don't make me hate your artist . I've started to hate them . I love A'st1 more than I love SS501 , clear enough ?
ps: I'll relink and reply your comments some other time ? I've to be happy first before I reply your tag :) Be happy people
pps : oh right , I create a formspring acc : http://www.formspring.me/haeeunmi . feel free to ask me anything and eveything .
Labels: ..........
Angry , mad .
posted on Sunday, February 14, 2010, 9:45 AM
YOU KNOW HOW MUCH I HATE FAKE ELF right?!

omg please lah people , I WON'T SEE YOU AN ELF if i don't see any qualities from you to make you an elf .

THERES NO NEED TO COME TO ME AND SAID '

OH I LIKE SJ AND SJ IS MINE !

'

wtf ? you know sj for like ... 2 months ago and now you claim sj as yours ?

GTFO . I'm mad okay ? I AM MAD !

serious talk here , I hate people , WHO ONLY LOVES SORRY SORRY !

I don't know why suddenly I'm angry AND HOH , no one ever respect me as an ELF for suju .

THEY THINK I'M BEING AN ELF FOR FUN IS IT ?! gahhh ~ FO .

Let me talk here , a serious talk .

I HATE IT WHEN PEOPLE THINK I'M BEING AN ELF FOR FUN , what do you expect for a two years fan being a fan for fun ?!

I also hate when teacher know I'm a fan or korean and they said ' OH ITS BECAUSE THEY'RE SO HANDSOME . BOYS OVER FLOWER ! '

Thats why i hate boys over flowers . AND SO MANY PEOPLE NOW LIKING KOREAN becuase its a trend now .

YOU WILL BE AN OUTDATED GIRL IF YOU DON'T KNOW ANYTHING ABOUT KOREAN , fo again .

AND HAHHAHAHAHHAHAAHHAHAHA ! if you were a fan , next time pleasee . TRY TO SPELL THEIR NAME PROPERLY XD . you were a fool , i must say it .

I want to say FO to people who suddenly got interested into kpop now .

I'm mad , not in a good mood :)

Labels: mad

posted on Tuesday, February 9, 2010, 8:08 PM


HANNIEEEEEEEEEEEEEEEEEEEEEEEEEEE :)

Cross Country

posted on Sunday, February 7, 2010, 9:27 AM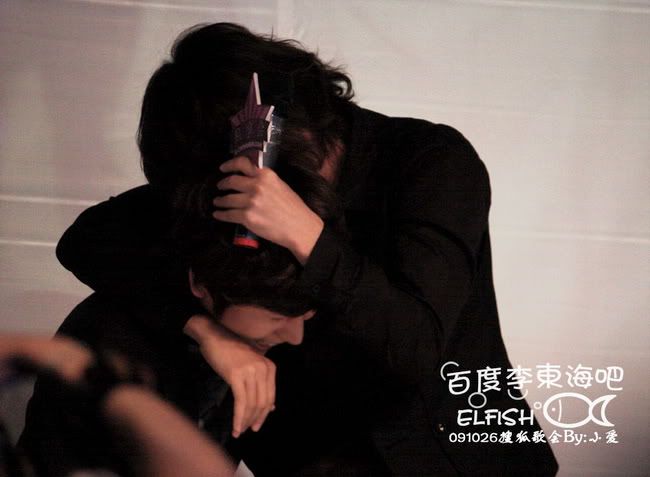 The hugholic boy meets the skinship boy XD



Yesterday's cross country was EPICCCCCCCCCCCCCCCCCCCCCCCCCCCCCCCCCCCCC !
I TELL YOU WHAT ! I lose my voice XD

Okay lets start ,
Morning , went to school , did some warming up which end up they played some songs that i don't know , wtf ?
I was covering my ears because i don't want to hear those songs , so-not-my-song =.=
Then run , cross the town , soaking wet , and blablablabla

Lets just make it short , here comes the best part of the story .

I was resting with my friend under a tent and SUDDENLY ,


' I'm heart sick , heal me , be crazy ! '

OMG OMG OMG ! DAMN IT DAMN IT ! I shouted my lungs out
ITS BEAST ! i shouted ' beast ' like no one business and attention that time was on me ,
very funny . YAH FANGIRLS ! don't you want to shout too , WITH ME ?!
and no one shouted , only me and afrina and sme of the chinese girls shouts
okay then the song finished ,
IT CONTINUES WITH RING DING DONG !
I LOST MY SANITY ALREADY ! I stand up and keeps on shouting and singing .
nicole , remember i said i can't shout because i don't know how to shout right ?
lol , I can shout , I suddenly can shout XD


' RING DING DONG RING DING DONG ! '

some of them were standing and singing and shouting and screaming .
I WAS CHANTING THEIR NAME ! okay whatever , I'm so crazy .
Then then ,


' nal jongmal MYSTERY MYSTERY '

MYSTERY CAME OUTTTTTTTTTTTTTTTTTTTTTTTTT !
again , me screaming my lungs out , lol
and again , attention was on ME .
i was sitting and keep singing and shouting , makes my friend say ' at this time , I'm more ashame to be one of your friend ' XD whatever
after mystery finished , en haris said that we have to balance genre of songs , they changed it to some songs that i don't know , AGAIN =.=

okay after some stupid songs finishes ,
HERE COMES SORRY SORRY !
THE BEST PART ! EVERYONE IS DANCING ! EVERYONE IS SHOUTING ! AND EVERYONE IS SINGING !
okay , me ? afrina and I stand up , stand by to dance . I DON'T EVEN REALISE EVERYONE ATTENTION WAS ON ME again =.=''
you know why ? i sat under a very centre tent , everyone can see me and good enough , infront of en haris seat =.=''
I don't care anymore , keeps on dancing and singing and chanting and shouting !
Tan's daughter join us , sok ching and her sister . HER SISTER WAS THE BEST !
OMG SHE'S SO HYPER ! okay nina , you too XD
I was chanting like the korean fans always do , FUNNNNNNNNNNNNNNNNNNN !
and the best part is , every angle of the tennis court filled with students dancing sorry sorry , lol
Then we have ring ding dong again and a little part of gee .
DAMN LA , I was ready to stand up and dancing to gee and it was PAP ! someone turn it off =.='' shits .

I was so happy until , someone told me that , en haris bash me and my friends .


' fanatik sngt dngn lagu korea sampai menari nari , tak malu ke ? buat malu orng
melayu je . pakai tudung pulak tu , hehh . '

I don't know how much percent in my heart respecting you because .. I've started to hate you . By that second , I've hating you . You just have TO be more respectful towards the fans . why cant you understand ? WE HAVE OUR ON FANDOMS ! so do you . Eventhough you hate the way we show our loves and supports , at least , don't say something like that . I WAS SO HURT !

and atleast , got one teacher who was INCREDIBLY SPORTING XD


' LAH KENAPE KORNG TK MENARI LAGI ?! SAYA CEPAT2 MKN NK TENGOK KORANG MENARI TAU ! CEPTLAH MENARIIIIIIIII ! '

Puan Gowry XD

Blue house won ! OH YEAHHHHHHHHHHHHHHHHHHHHHHHHH ! I'm in red house but i feel MORE GRATEFUL if blue wins XD It feel like ELF has won . GO BLUE HOUSE ! Red house ? go die :P BLUE HOUSE MAKE SURE YOU WIN ! :))

END , am trying my best to reply your tag , and nana , MY YM ! I CANNOT SIGN IN , OH DAMN ITTT !
ps : Kpop fans ARE EVRYWHERE . but its hard to find a TRUE FAN . Korean drama fans are not considered as a kpop fan. and nahh , some people like kpop because they don't want themselves to be outdated WHICH SUCKS ALOT . shit them , F them .
Fcuk netizens who thinks kyuhyun's bday celebration was rude . YAH IDIOT ! ITS NOT RUDE ! ITS SWEET ! tell me when will you ever see this side of suju again , huh ? NO BRAINS PEOPLE ! grr i was so mad ! and HAHA ! my dear Ex ELF , GO DIE IN PEACE :)
Labels: cross country, epic
Cho's Day
posted on Wednesday, February 3, 2010, 5:12 PM

Cho Kyuhyun ,
My best best best ' small ' brother .
although he's like .... 7 years OLDER than me , but nahh , he is still my baby brother .
Don't call me noona , call me your dongsaeng .
Don't protect me , Let me protect you :)
Its just once a year , let me say something .
Happy Birthday , my baby brother .
Be a baby , Be the baby Kyuhyun , Be the cutie baby Kyuhyun .
FOREVER , okay ? :D

Idiot kyu , I won't call you kyuhyun oppa , NEVER EVER !
You're way too young to be called as an oppa , let me call you , humm ..
baby ? oh wait , infant ?
XD
OKAY WHATEVER -_-