Update [ completely rushing ]

posted on Sunday, August 30, 2009, 1:31 PM


Dear Fishy ,



* He's Mine and Forever will be mine *





My mom was really angry with me . fishy , you know right , I don't know how to cook . aigoo , my mom told me to cook the rice .


Mom : nina , masak nasi kejap , letak tiga setengah pot tau
Me : OKAYYYYYYYYYYYYYYYYYYYY
After awhile ,
Mom : EH why banyak sngt ?! berapa bnyk kau ltk ?
Me : Tiga pot , hehe
Mom : HAHHHHHHHHHHHHH ?! abistu spe nk abiskan semua ni ?
Me : tk tauu , HEHE

pfft =.=

I REALLY REALLY want to reply your comments but now i'm in perfect rush , at least i update my blog right ? i promise i'll reply all your comments tonight . okayy ? don't mad at me ROFL . LEE DONGHAE ! i love you boyfriend <3


ps: I'll link and relink you tonight , ahhh mianhae !

Labels: rushing post

Life =]

posted on Wednesday, August 26, 2009, 11:50 PM




Dear Fishy ,





Siapa no 1 bagi anda ?
- Dia madu saya , YES KAMI KONGSI WONBIN NGAN JONGHUN !

Orang no 3 ada hubungan dengan siapa ?

- dia ? 2PM's Junsu !

Katakan sesuatu berkenaan dengan orang no 5

- unniee ! nina syg unnie gila gila punya tauu !

No 4 ?

-

she's my senior , dearest senior ? and yeah , teukie's little angel

Warning : Emo Entry

posted on Tuesday, August 25, 2009, 12:16 PM


Dear Fishy ,




Fishyy , gahhh . I hate the fact that I can't write to you next year . ohmyfishy , HOW AM I GOING TO CONTINUE MY LIFE ?! I don't know . Fishy , I feels so sad . I kept thinking about how life's going to be if DBSK split up , if Super Junior split up . I always believe there'll have times that you'll get married , have childrens and have a wife that always cling on you every single day. I'll be happy for you but at the same time , can I accept this marriage ? I'll cry nonstop for so many days . When I thought it back , why am I suppose to cry ? YOU'RE MY FISHY and always will do . I don't care if you've wife or childrens because you're MY fishy and forever will be mine . I'm crazy right ? you think ? Fishy , Before you get married , please find for me a boyfriend that as sweet as you , as handsome as you , as cute as you , as kind as you , as loveable as you , as patient as you . You're the one I need the most in my life . You're like my oxygen . One minute without you is like one day without oxygen . I do need other members too . Eeteuk , Heechul , Yesung , Hankyung , Shindong , Sungmin , Hyukjae , Donghae , Siwon , Ryeowook , Kibum , Kyuhyun , Zhoumi , Henry = The person I need the most in my life .

Imagine one day without teukie's unique laugh ,

Imagine one day without heechul's unique smirk ,

Imagine on day without some yesung's randoms gags ,

Imagine one day without hankyung's sweet advise ,

Imagine one day without those cute shindong's smile ,

Imagine one day without sungmin's aegyo ,

Imagine one day without lee hyukjae's wide smile ,

Imagine one day without some comfort and romantic words from lee donghae ,

Imagine one day without siwon's handsome manly face ,

Imagine one day without ryeowook's wonderful voice ,

Imagine one day without kibum's bear smile ,

Imagine one day without Kyuhyun's wittiness ,



Imagine one day without zhoumi's REALLY WIDE SMILE

,

And imagine one day without our cute moshi henry .

I can feel the epmtyness in me . Even before I meet you , I always wonder , why I feel so empty ? like no one's care for me . At first , I don't really know what exactly life is before I met you . Before , I'm such a nerdy person , books are always be my best buddy , but after I met you , I CHANGES A LOT ! I'm not a nerdy person anymore , I don't even finish my homeworks and yeah , my laptop is my best buddy , not the books anymore . You really changes me a lot . Thanks to you . One day without you is hell enough for me , thank god I still have my MP3 player to accompany me . Fishy , now you know right on how much I love you and the other members ? Actually I've a lot more to write fishy , but I'm scared people might think that I'm such a crazy person . YES I AM CRAZY ! I don't care being crazy for you . =] . *hugsfishy*



I don't know why i create such an emo entry . I write what this heart of mine feels about.

Labels: emo entry

Saengil Chukae <3

posted on , 8:47 AM


AHHHH , i feel bad for yesung T_____T



The guy ....
who names kim jongwoon , i adore his voice the most . His voice sounds so PERFECT . Although you're not my favourite but these days , you've grown in me . Your dorkyness makes me thank god that you live in the same planet as me . It's true that i don't know you , really . But on your birthday , you know what am i doing ? I'm learning about you ! How you love to touch the members mouth , how unique your laugh is (lol) , how you care for your hyungs and dongsaengs , how you love to do the funny face . i learn it all ! believe me yesungie . I will keep supporting you and other members for many years ahead

.

Even when you'll split up with them

,

i still believe that the heart of yours will always be with them

.

Of Course there'll have a time when we need to separate with each other but yesungie

,

Always believe that elf are everywhere to protect you

,

to love you . ELF's Love is undescriable . There's no point saying that you've the least fan because ELF love Super Junior EQUALLY . You're the precious gift from God . Saengil Chukae <3

To The People Who Spam My CB with some stupid words

posted on Monday, August 24, 2009, 12:19 AM


To YOU ,




FUYOOOOOOOOOOOOOOOO

! kau buat aku nangis lah , *claps* . perghh ayat tu tk boleh censored sikit ke ? nk tanya lah kan , kau spe nk ckp aku gemuk ? kau spe nk ckp aku mkn babi ? kau spe nk ckp aku buat benda tak elok tu ?

KAU SAPE

! malu lah sikit kak , ( i'm positive that you're a bitch ) bulan puasa nih sepatutnya buat pahala , bukan buat dosa . i wanna know ,

WHO ARE YOU ? WHERE DID YOU COME FROM ?

and how come you know my new links ? This is so weirdd . I don't know who are you so please care to answer me . Gahh , please please please get a life , simpan je comment awk tu ,

APE HAL NK KECOH SNGT

?! eh serious lah , aku buat ape sampai kau mrh sngt kat aku ?

WHAT DID I DO ?

! aku tk tau ape yg aku buat kat kau .

CARE TO EXPLAIN WHY YOU SAID SUCH THINGS LIKE THAT PLEASE

? i hope you answer me well . I'm dying here to know what did i do to you , did i kill someone until i deserve that comments from you ?

DID I ?!

aishh , life is so pathetic . KALAU KAU BERANI , ckp lah spe kau .

KALAU KAU TK ANSWER APE YG AKU TANYA NIH KAN

, kau mmg penakut lah weh . P

ENAKUT ! COWARDDDDD !

and thanks tau sayang , drop by kat page aku sbb nk bg comment mcm tu ,

SAYANG I LOVE YOU THANKS SNGT2

! *cries*

ALL THANKS TO YOU BECAUSE I WASTE MY TEARS .

stupid human -___-
you wait ! I'LL TELL DONGHAE ABOUT YOU ! JUST WAITT AND SEE . He'll definitely slap your pretty arse for me , LOL .

Labels: stupid human there

Tag By Izzie

posted on Saturday, August 22, 2009, 5:06 PM




Know why ? It's because i missed the chance to join them jumping , gahhh =.=


Labels: SLEEP

Tiredness

posted on Friday, August 21, 2009, 11:45 PM




Only You ,

If it's not you , I can't be fixed ,

I can't bring myself to smile again ,

It's only you my kibum , IT'S ONLY YOU ~

-2PM , Only You-

School

posted on Thursday, August 20, 2009, 2:38 PM


FISHYYYYYYYYYYYYB !
currently at school now , Fishy ! take me backk , i hate school fishy !
my eyes are swollen fishy . fishy my fishy . I LOVE YOU !

Shopping

posted on Tuesday, August 18, 2009, 11:49 PM


Dear Fishy Donghae ,




FISHY ! I'm back fishy , miss me ? Diana , you know what , I love you . you're the reason why I love blogging , thanks for everything . Fishyyy , today I shopped a lot with my mother , like 6 or 7 bags kan ? LOL . It was so tempting , how I wish I'm the owner of the aeon , so I can get discount , NYAHAHAH . oh and today I bought crocs and F.O.S bag . for the crocs , THANKS TO MY DEAREST MUMMY . At first I'm not thinking that she will buy me the shoes since I hate to wear new shoes , lol . but suddenly fishy , she ask me ' what kind of shoes do you want here ? I'm going to buy it for you ' HAHAHAH ! Well , I don't want to susahkan my mommy fishy so I buy the cheapest one but I still love it . It cost my mom RM 129.00 . Fishy , my mom said it's worth it since my roxy flip flops was.. I don't know how to say it , really old can ? I bought it last two years , LOL . I'm not so into this fashion thingy . I LOVE BAGS ! that's the only one I'll buy . So yeah , I bought the f.o.s bag , which is really really nice . My roxy bag looks old enough , well not really old but the colour , AISHHH . I should sent it to the laundry . lol . EH I FORGET SOMETHING ! fishyy , fishy , fishyy ! I bought your POSTERS ! 2 poster can ? the receptionist was looking at me weirdly fishy . Why people look at me like that fishy ? is there something wrong If I buy your posters ? ahh people people , they should stop staring at me like that fishy , I'M NOT AN ALIEN , =.= I went to speedy and I was very sad , FISHYY , someone has snatched away your repackaged album , what should I do fishy ? I feel like banging my head on the wall , *cries* Fishyy , my cousin's brother , who came from johor , visited me , and … he winked at me fishy , don't you feel mad fishy ? I glared back at him and I said '

I owned by lee donghae

' . HAHAHHA ! you should watch how he looks at me weirdly and he even dare to ask '

WHO THE HELL IS LEE DONGHAE

?! ' . how dare he fishy ? I

smacked his head lightly

and said '

lee donghae is one of my dearest husband , if he saw you winked at me then he'll be in real trouble

' . he was laughing so hard , stupid him fishy xD . I only owned by you right ?! lol . Fishyy , I'm so sad right now , afrina told me that teacher have arranged our seats in the class and she makes me seat far far far away from my friends . seriously fishy ,

what kind of teacher she is

? I thought school's life is fun but noww , i'm not going to think that my school's life is fun . HOW CAN I SIT AT MY TABLE WITHOUT MY FRIENDS NEAR ME ?! fishyy , I hate her fishy . I don't like to go to school fishy . I REALLY HATE THE FACT THAT I'M NOW ONLY 14 YEARS OLD ! I hate school fishy . fishy-ah , what am I supposed to do now ? Imagine fishy , I've to sit like a mile away from my friend , who's going to comfort me after this ? who's going to hear my confession ? who's going to laugh with me after this ? who's going to talk some gossip with me ? FISHY , I HATE SCHOOL FISHY ! It's going to be really awkward tomorrow . AND I'VE PROMISED MYSELF FISHY , MY MOOD IS GOING TO BE REALLY REALLY BAD TOMORROW . I'll not talk , I'll not smile , I'll not do my homework , I DON'T CARE ! she ask me to sit down and quiet then I'll do it fishy . and yeah , there will be no more the cheerful nina . *cries* . what should I do fishy ? I want my friends back with me . I'm dying fishy . fishy fishy fishy my dearest fishy , you know how much I love you right ? eventhough I've liked many boys but my heart is for you and it's only you who deserve my love . lol


p/s : izzie ! thanks for tagging me , i'll do it later okay ? *hugs*

p/s/s : SAVE THE FRIGGING EARTH PEOPLE !

p/s/s/s :

Malay guy sucks like moo shits

Dear Fishy

posted on Monday, August 17, 2009, 10:42 PM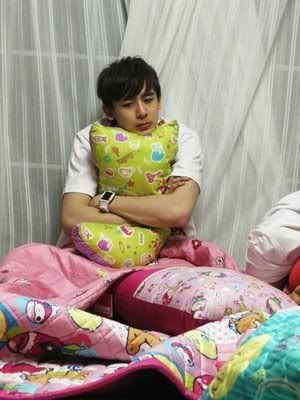 Fishy , i'm doing this because of
my cousin
, diana keeps forcing me
to wrote my diary
and titled it as '
dear fishy
' . She ask me to do this from today onwords . lol . I don't really know why
she's doing this
but
i found it is cute
so yeah . Diana
, satisfied now
? DUHHH -___- . Fishy , today i was
so energetic
, care to ask why ? i myself don't know . Afrina keep saying to me '
i'm glad that you're happy now
' , lol . fishy i tell you what , i love her to the fullest ! so yeah , i was really crazy just know , really really noisy at the assembeley until juniors prefect are giving me penalties , lol
The prefect : Your name please ?
Nina : Paris Hilton , MUAHAHHAHA
The Prefect : -____-//
Labels: jk
Sister and Me
posted on Sunday, August 16, 2009, 1:28 AM
So yeah , today i'm going to talk about my little sister .
Labels: 1234
Don't read it if you are a prefect
posted on Friday, August 14, 2009, 7:53 PM
Today

ALOTS of things happens

including

my fanfiction

kene rampas when the prefect held their DAMN SPOTCHECK . it feels like shit when your precious things kena rampas . Well it's not my handphone who kena rampas but my fanfiction . you see , i PRINT OUT 13 yunjae oneshots just to give afrina read it today and zass , OUR BEAUTIFUL GENIUS PRETTY perfects junior took it AND what is so wrong t bring a fanfiction ? ITS A FREAKING STORY and what for they wanna take it ? AND I'M WONDERING SO MUCH , why the juniors didn't take my sorry sorry lyrics instead on taking my masterpiece and oneshots . MY MASTER PIECE YOU KNOW ! i wrote something about SJ when i'm bored AND YEAH , the stupid juniors took it . That was harsh . They are really really an idiotic people . I was crying at my place and thank god no one realise it . i'm having my worst bad mood today and sorry to all the people that i didn't smile , i didn't joke . sorry izreen , sorry afrina , sorry aquilah . but izreen , please do your best on persuading yaysodha to give me back my masterpiece , please ? pretty pretty please ? and yeah , no one know what a fan's heart when it comes to this situation .
nina

: Weh , aku rasa mcm nk mati je , kertas je yg dorang rampas tapi aku
rasa mcm dorng dh rampas handphone aku , padahal kertas yg tak de nilai langsung , HUWAAAAAA .


afrina

: Tu laa , A Fan's Heart is always like that . Walaupun hanya kertas , tp kalau dah ade name KOREAN ARTIST , mesti kau sedih punya . Kalau aku lah , memang dh menangis doe .

VERY TRUEEEEEEEEEEEE ! i was wondering myself why the hell am i crying ? i myself don't know . I was very fragile at that time . Donghae Oppa , the stupid juniors take my masterpiece , what am i going to do ? Slap them for me please ? *Donghaeslapthejuniorsandi'msatisfied* LOL . At first i was really mad at aquilah , can't she defend me a little bit ? but after knowing that the stupid juniors who took it , lagi lah marah kat junior . AISHHH . How you felt when your own masterpiece kena rampas and they will not pulangkan balik , mengamuk tak ? duhhh -____- . Yaysodha honey *pukes* , can you give back my masterpiece and oneshots please ? I'll die if i didn't get it back by tomorrow , and yeah , she has confirmed with izreen that she will not come tomorrow. shit shit . I REALLY WANT BACK MY MASTERPIECE OR ELSE YOU AND YOU *

pointstothestupidhumanwhotakemymasterpiece

* , HEAR ON WHAT I'M GOING TO SAID , GIVE ME BACK THEM ! OR ELSE I'LL MAKE MY 13 OPPAS SLAP YOUR PRETTY FACE , get it ?! LOL . I really want them back , I WANT THEM BACK ! don't you hear me ? I don't care if i got so many penalties , JUST GIVE BACK THEM TO ME ! i don't care about the stupid penalty , well who cares ? I'VE A LOT OF MERIT MARKS AND THEY'LL COVER MY PENALTIES ! just give me backk *

cries

* , give me backk my paper *

cries

* i want them so badly *

cries

* . Izreen said that they READ my fanfic . WHO GIVE YOU THE PERMISSION TO READ IT ?! how stupidd -___- . How can you be a prefect while you yourself didn't know how to respect other people things ? OHMYGOSH , what kind of human are you ? duhhh -____- . that was really stupid . How i wish i can said ' WHO ARE YOU TO TOUCH MY THINGS AND READ MY ONSEHOTS ?! I DON'T KNOW YOU SO JUST BACK OFF FROM MY BAG , STOP TOUCHING MY THINGS AND GIVE ME BACK MY PAPER ! you dumb people ' , LOL . if i can do that and you have to praise me as a very brave person . HAHA .Ahh , i was calm-ing myself , thanks afrina for being beside me . without you i don't know what will happen to me , HAHA . Chim Poh Kuan , i was quiet because i am hungry , my stomach keep doing the you-know-what sound xD . What did puan zaleha do with my cubic eh ? She said she will give me today and yeah , SHE FORGET ABOUT IT ! oh gee damn it .
Labels: shitty
Anger
posted on Thursday, August 13, 2009, 11:30 PM
To My Cousin's Sister
: One word je weh , GO TO HELL and FO . cakap ngan kakak kau , dia ingat dengan ape yg dia ckp aku akn stop la suka kat korea ? MUAHHAHAHAHAH ! eh saudari , KAU TOTALLY SALAH , itu yang membuatkan aku suka lagi dorng , ADOI . sia sia je kan usaha kau selama ni ? simpati aku weh , SIMPATI . aishh , ape lah masalah korng dua ni ? and aku sendiri wonder , mcm mne lah kau boleh dpr url blog aku , serious korng dh buat banyak kerja kan nk buat research pasal aku . BRAVO WEH , bravo . tu lah sebabnye aku makin SAYANGGGG kat korang . LOL
ps : will reply comments later
pss: SAVE THE EARTH PEOPLE ! i beg youu
psss:
None of you know what i feel , even my mother . I seriously need a hug now *cries*
I Seriously Need Him , just give him to me then i will not whining for him anymore
Labels: moody
Puan Zaleha
posted on , 8:14 AM
Weird obsession with guys in specs . Yunho looks TOTALLY panas in his specs ! I know the specs has no cermin one xD
--------------------------------------
Yesterday , my

cubic cube

.. kena rampas .

damn you puan zaleha

,

damn you
here a little bit

funny

cnversation between me and her , LOL
nina : cikgu , cikgu kata nak nama saya dengan tingkatan ?
puan zaleha : hah tu lah kamu , tadi bukak tudung , tk nampak nama ( ape
kena mengenanye ? mmg la tadi bukak tudung sbb aku nak sembahyang , -___-")
nina : hah ?! ohhhh
puan zaleha : name ape ? tingkatan ?
nina : *sambilmenunjukkannametag* nur khairina , tingkatan 2A .
puan zaleha : ape name permainan ni ?
nina : cubic cube kott , ntah la cikgu , saya pun tk tau , saya beli je
puan zaleha : ape faedahnye awak bawak benda ni ?
nina : tk tau lah saje saje je nk main , bosan kat sekolah
puan zaleha : pergi sekolah nak main rupanye , tkde faedah kan ? kenapa
bawakjugak ? ( bukan ke dh tanye tadi ?! dodol -____-")
nina : saya pun tk tau , sye bawak nk main je
puan zaleha : kenapa awak jujur sangat ni ?
nina : saya memang jujur cikgu , saya tk tau nak menipu pun ( MUAHAHHAHAHHA !)
puan zaleha : adoi , ape lah kamu ni , dah pergi masuk kelas
nina : oh okayyyy .

Pictures :
Labels: Shit la
Blogskin
posted on Wednesday, August 12, 2009, 9:21 AM
Labels: lala
My Shitty Cousin
posted on Tuesday, August 11, 2009, 12:37 AM
Labels: pissed off
>.<
posted on Monday, August 10, 2009, 8:49 PM
Labels: new layout
Hair
posted on Saturday, August 8, 2009, 2:49 PM
Labels: frust like shit
Canteen Day
posted on , 8:17 AM
-------------------------------------
Labels: Fun
Bastard
posted on Wednesday, August 5, 2009, 8:53 AM
Labels: Lee Soo Man, shit
Sore Throat
posted on Sunday, August 2, 2009, 10:51 PM
Labels: sickening