Boys in City photobook

posted on Wednesday, March 31, 2010, 1:34 AM


I think that , I'm going to die soon .




Detail Features

1) Photobook
- Size : 180 * 220 mm
- Total 436p

2) Special Gift
- Postcard : 64pcs
- DVD(Running time : 42min./ narrator : Sung Min, Kyu Hyun)

3) Poster

WHY IT HAS TO BE SO DAMN EXPENSIVE ?! I was searching for my folios and ended up found this thing . YES ! I WILL BUY IT NO MATTER WHAT ! and it's a relive that it does not have any stupid calendar with it . RM 184.00 is such a large amount and i know , i have to choose whether boys in city photobook or 4th album . PFFFFT . and about the most awesome shit part of this book is ,

KYUMIN WILL BE THE NARRATOR OF THE VIDEO ! OHMYGOD CHO KYUHYUN AND LEE SUNGMINNNNNNNN

! my otp forever . BUT EH , IT SHOULD BE EUNHAE INSTEAD OF KYUMIN ! but nevertheless , I'm happy . shit , SEE HOW MUCH PAGES ?! 436 ( !!!!!!!!!!!!!!!!!!!!!!!!!!!!!!!!!!!!!! ) *laugh* this is better than sushow , i guess ? but PFFT again , I've used my sushow money to buy other things . Nur Khairina Khairulmuzammil why are you so stupid ? and do you think your mom will allow you buy this book? PFFT . I don't care anymore. I WANT THIS BOOK but money laa . I can see my wallet is screaming and screaming not to take out any money anymore . HAHA PFFFFFFT I'm having headaches ! grr

Sigh , I heard somewhere that this would be the last photobook regarding all the cases they have been through . I don't want this to really happen . I think , I WILL LEAVE KOREAN FANDOM IF SUJU IS NOT THERE . remember ? I only love SUJU and it will be only SUJU who deserves my love . I don't know . I really don't know .

Hankyung-ah , I'm so glad you're fatter ! YAY FOR YOU ! YAY FOR ME TOO ! YAYYY ;(

gotta sleep now .

Labels: money matter

Short update

posted on Monday, March 29, 2010, 1:25 AM



Hae , If you cry , I will cry with you too . So Lets cry together . Don't keep it in your heart. Just let it out .

Fuhh , there's so many songs came out and one of them is SNSD - RUN DEVIL RUN . okay , I know there's alot of Kesha's fan were mad at Sones and SNSD . wtf ? It is not Kesha's song bytheway . She only did a demo . SMEnt bought it . It not belongs to Kesha , It belongs to SNSD . I hate Kesha's version . So 'rock' and boyish . I hate Kesha's song . What is so good about tik tok huh ? tell me . pfft . I just wanna say that because a lot of Kesha's fan out there claim run devil run as Kesha's . Get the hell out of here la . I'm an SNSD fan bytheway if you did not know . HAHA .

People , stop remind me of super show ? well i will ask you if i want to hear about your story . no need to ' i went to super show ' , ' why you did not go to super show ? ' , i thought you're a fan of them ' PFFFFFFFFFFFFT . fyi my dear , I don't even feel a little bit of jealous towards the fans who can go . I AM NUR KHAIRINA and the person named nur khairina usually are AWESOME . I'm tired of saying ' whatever ' . sigh . go study and score straight As for PMR la , don't bother me . grr .

In the next entry , I will talk about trip to Pesta Buku with full of laughter . credits to Izreen who show her idiotness that day XD

I'm waiting for 4jib ! 4JIBDAEBAK !

I should sleep now before the clock strike to 2AM ( !!!!!!!!!!!!!!!!!!!!! XD )
bye bye .


Labels: kesha, run devil run, snsd, sushow, update

ELF

posted on Monday, March 22, 2010, 11:06 PM


I don't feel like talking about super show anymore . Watch this and read the video's comments:



Shit . I don't want to talk about other ELF but I feel like, I have to talk about them . Mann , Why other people's country have to hate when Malaysian ELF support 15 ? I really don't understand them . Aren't ELF supposed to be one ? we're EVERLASTINGFRIENDS , remember ? I know how much K-ELF , C-ELF , Thai ELF , Taiwan ELF wants only13 . Just get over it my dear . They're not a part of SJ , why have to make such fuss ? Even Leader has said please support SUPER JUNIOR . aren't super junior M is SUPER JUNIOR TOO ? damn it . Now , ELF all over the world hate us because of this . YOU'RE A FOOL . A real fans will not behave this way . YAH ! I'M NOT TALKING THAT I DON'T WANT ONLY13 ! as much as i want only13 , I can't bare to see henry and zhoumi are sad .
R u crazy Malay FAN!!!
Super Junior alway & forever 13 member
Why u try to add more ???

ELF is person that believe & protect 13 member if u can't do this so don't call yourself ELF it DISAPPOINTED!!!



nina : oh really ? that is so funny of you . WE DON'T WANT TO ADD MORE . WHO SAID WE WANT MORE ?! fool . I call myself as an ELF because I love , support and believe Super Junior . When I said Super Junior , It'll be not only13 . I love fifteen of them . what disappointed ? we're making our choi siwon proud of us . Don't you feel happy too if siwon love us ? HE LOVES THE ONLY15 FAN . aren't you jealous with us ? HAHA .
I really don't want us to separate . We're EverLastingFriends . Remember that we promised SJ that we will be one ? So why turn out this way ? And when will ever Sapphire Blue cover the whole world if we behave like this ? We're helping Leader to make his wish come true . So please behave , please understand each other, please don't look down on each other . We're equal . Everyone is the same . We're EverLastingFriends . Please remember that . WE ARE EVERLASTINGFRIENDS . ELF . We can make it better than any other fanclub if we're one . We can help leader to make his wish come true if we're one . So lets be together . If we go through hard times , I want us to be together . We're EverLastingFriends .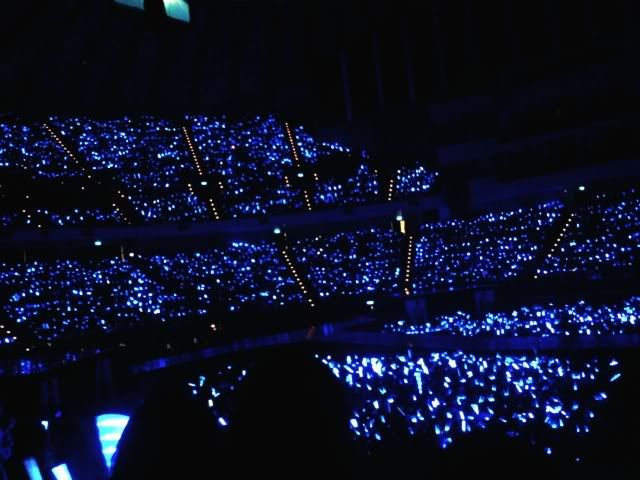 Sea Of Blue .
--------------------------------------------------------------------------------------------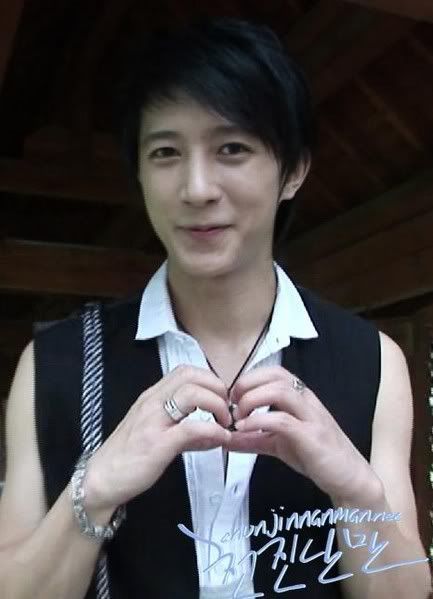 I miss everything about you , I miss you . Why can't you see ? I miss you .

Labels: ELF

posted on , 2:32 PM


I am , surprisingly , can accept the fact that , I didn't go to SuperShow II
I'm so surprised myself .
I feel like , nothing happened two days ago .
My brain shut-ed down . I feel like nothing !
Oh man, I'm awesome , don't you agree with me ?
I AM FREAKING AWESOME !
I did heard stories about super show here and there and you know what I think of ?
' Doesn't mean If I did not went to Super Show , I'm not an ELF anymore . '
BAHAHAHAH , I told you , I'm awesome to think like that , lol
I will continue tonight . I just want to write this .
I AM AWESOME !


ps: There must be a reason why I'm not there with you , I'm not dissapointed though because I will always there beside you . Wherever you go , wherever you are . I'm there standing beside you and I feel that you're so near to me . We're near in our heart . To the ELF who did not go , Don't feel dissapointed , there must be a reason why God make our life this way . Who knows we can get more than what we want nanti ? We never know how our life will end up . Keep on praying to God . ;) Super Junior sure know and understand why you didn't come to see them . They UNDERSTAND us . =)

WHY ?

posted on Monday, March 8, 2010, 2:01 PM




as much as i want only 13 members in super junior , i still support henry and zhoumi .

SJM and SJ has a damn lot of differences .

I want only Leeteuk to Kyuhyun in SJ but that doesn't mean i hate henry and zhoumi .
I LOVE THEM TOO .

please don't hate them.
and this is how henry feels :

(Anonymous)
2010-03-07 11:20 pm UTC (link)
Dear all,I really don't understand. Aren't people supposed to care and to protect what is their own? We speak the same language, eat the same food, have the same customs and yet we are not welcome in our own country to perform. All we want to do is to express ourselves through performing and music but how can we do this when there is so much hate? Don't you find it funny how we can perform in every other country without any problems except for our own home country? I I left my friends, family, and everything else back in Canada to pursue a dream all alone here in Asia. As a result, I have been hated ever since I first debuted in Korea in 2006 from fans. What more do you want from me? How do you think I or we both feel every time we go up on stage knowing people will be screaming for us to get off? I've tried to laugh it off for far too long now and can't hold it in anymore. Just to let you know…we have feelings too. I will continue to work my hardest to bring the best performances for you all but today I'd just like to let you know a little about how I feel in the inside. I'm almost all out of breathe.
However...
qinxian1 men...
mitang2 men…
xiexie nimen3
Thank you so much
I hope you all understand what I'm feeling.

1 Strings
2 Honeys
3 Thanks you all

why people can't understand ? PLEASE DON'T HATE HENRY AND ZHOUMI . for the millions time i said . PLEASE DON'T HATE HENRY AND ZHOUMI . they're human beings too . I can see how hurt were them and I don't want them to hate me . ONLY13 will be ONLY13 . theres no changes in that. like i said , as much as i wanted only 13 in suju , why can't we support henry and zhoumi too ? I can promise you that henry and zhoumi WILL NEVER be part of suju . so , don't worry about only13 thingy . please support and love FIFTEEN of them . don't make our precious henry and zhoumi hurts more .



Labels: sjm